WELCOME TO THE HOMEPAGE OF THE NEW KAMMERKOR
Det Ny Kammerkor ("The New Chamber Choir") is an ambitious and hard-working choir based in Aarhus, Denmark. The choir's repertoire spans over a wide variety of composers and ages with particular focus on the contemporary choral music. Besides singing a number of concerts annually in Denmark, the choir travel abroad for concert tours, festivals and competitions.
CONDUCTOR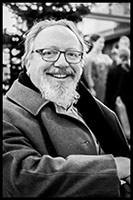 Anders Gaden conducts Det Ny Kammerkor. He was educated at The Royal Academy of Music, Aarhus as organist and cantor. He finished his studies in 1995. As part of his studies, he trained with Søren Birch, Alice Granum and Erling Kullberg. He has performed in numerous concerts as conductor, solo organist and accompanist. In his years as chairman of the Danish Amateur Choir Association, DAKU, he has organised as well as taught conducting courses. Besides being Det Ny Kammerkor's conductor, Anders Gaden is organist and cantor at Helligåndkirken (The Church of the Holy Spirit) in Arhus and has been so since 1995. Furthermore, he teaches at Vestervig School of Church Music.